About Us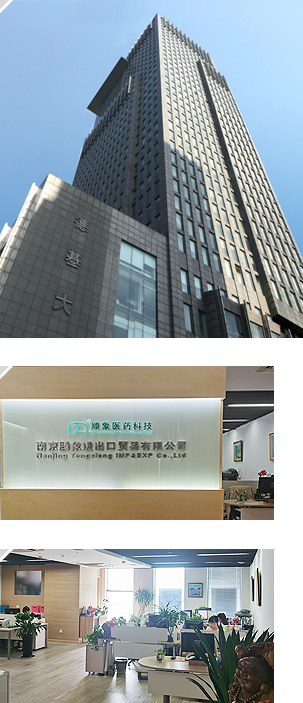 Nanjing Tengxiang Import & Export Co. Ltd. was established in 2007 with a focus on pharmaceutical and material chemistry. Integrating R&D, production, marketing, and information, we are one of China's leading chemical import and export suppliers and manufacturers.
22 years of professional chemical production experience—Our initial factory, the Danyang Jinxiang Chemical Factory, was founded in 1999. It was the first enterprise to produce Di tert butyl dicarbonate in China. Our production technology team has set up a digital management system, focusing on technical breakthroughs and energy optimization/innovation so making our products original and cost effective.
15 years of professional chemical marketing experience —Nanjing Tengxiang has a professional and experienced production marketing team. There are professional and standardized controls in production, quality, packaging, and transportation. Our 15 years of professional experience has been highly recognized by customers and has allowed us to establish stable production and supply relationships with more than 40 well-known pharmaceutical enterprises around the world.
4 production bases and 1 experimental institution — Our main production base is located in Lanzhou, Gansu Province. In addition, we have cooperative factories in Jiangsu, Hebei, and Tianjin, which together form a complete product supply chain. Our independent experimental center provides one-stop service for product development and analysis.
5 series of products — We produce an amino protectant, azo, pyridine series, pharmaceutical intermediates and biosynthesis series. Our main products are: Di tert butyl dicarbonate (Diboc, BOC anhydride), diisopropyl azodicarbonate (DIAD), pyridinium trioxide, pyridinium tribromide, pyridine hydrochloride, pyridinium 4-toluenesulfonate,2-Adamantanone and protocatechuic acid .
Nanjing Tengxiang is the product operation platform of Nanjing Shunxiang Pharmaceutical Technology Co., Ltd . With a goal of "being the most established professional chemical production enterprise", the company is committed to providing high-quality, long-term products and services for global pharmaceutical and chemical enterprises.
ChemMade.com and GlobalChemMade.com — our information platform. Officially launched in 2009, it was a pioneering chemical B2B portal in China. With more than 40,000 registered enterprises and more than 10,000 active users per day, the website has now become a mainstream information service platform for the chemical industry supply chain.